Quality of Nordic-Baltic Translation Services
Nordic-Baltic Translation and language service company Baltic Media® Ltd works in accordance with the requirements of the international standard for quality management systems ISO 9001:2015.


It is a specific guarantee for quality ensuring that effective quality assurance procedures, working environment, division of responsibility and quality audits are provided at all levels of the company. The quality management system ensures that the main focus within the company is the satisfaction of the Client's needs, respect for the Client's requirements and that the quality management system is continuously improved. Baltic Media Ltd bears the responsibility for the safety, keeping and confidentiality of the Client's data.
Each translation project from its very beginning to handing over to the Client is supervised by a specific Project Manager, being responsible for selection of the most suitable specialists compliant with the quality requirements set out by the company, fixing appropriate deadlines, and also for the management of top quality assurance.
The price of the translation service includes the translation performed by an experienced and qualified translator as well as the quality accordance in accordance with the requirements of the international standard ISO 9001:2015 – editing, proof-reading as well as delivery to the Client within the fixed deadline and in the appropriate format, thus the Client's order has been handled by several employees – a project manager, translator, editor, and, if necessary a terminologist and/or a specialist of the field.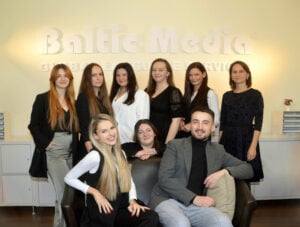 The central coordinator in the company is the Project Manager being responsible for informing the Client of the best methods for achieving quality results and maintenance of contact with the Client throughout the Project. Translators are often asked to use terminology approved by the Client, and at the Client's request Baltic Media® also offers professional assistance for its elaboration. All projects are thoroughly reviewed for their compliance with quality requirements.
According to the corporate philosophy of Baltic Media®, quality is the most important benchmark in competition; therefore the company is determined to meet the requirements of the quality management system.
Services provided by the translation and language training company Baltic Media® are organized in such a way to meet the needs of our Clients. One of the most basic principles is prompt service. Baltic Media Ltd Project Managers can be reached outside our regular office hours.
Quality and promptness – these are the two main principles why our Clients trust Baltic Media®.
Your online Nordic-Baltic translation agency Baltic Media®
The Baltic Media® Nordic-Baltic Translation agency is a leading provider of digital translation services in Northern Europe specialising in Northern European (incl. Nordic, Baltic, Slavic) languages mostly in translation services from/into Swedish, Finnish, Danish, Icelandic, Faroese, Norwegian, German, English, Polish, Russian, Latvian, Lithuanian and Estonian.
As an ISO certified language service provider, the Baltic Media® translation agency offers human translation services for corporate, governmental and private clients.
© Baltic Media®